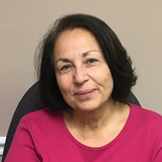 Andrea was born and raised in Clifton, New Jersey. She attended Montclair State University, majoring in business management.
Andrea's responsibilities as Office Manager at ITFP include accounts receivable, accounts payable and purchasing duties, collections, as well as, processing of tax returns. She works with clients making appointments, explaining and answering questions and assists staff members on various projections.
Andrea's prior experience includes 24 years with the moving industry where she held positions as office manager and customer service and claims manager for one of the largest companies in the industry.
She has worked for ITFP since 2005.