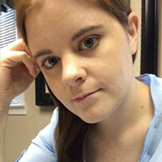 Becky is a graduate of Council Rock High School South (2011) and the University of Pittsburgh (2014) where she received a Bachelor of Science Degree in Psychology with a minor in Administration of Justice (Cum Laude).
Becky's is ITFP's Office Manager.  She supervises and coordinates the work of ITFP's administrative staff.  She is a liaison between staff, suppliers and clients. Her responsibilities include client billing, accounts payable and receivables and overseeing the storage of electronic documentation and client records. She organizes and maintains ITFP's permanent files to ensure compliance.  Becky is also responsible for the proper disposal of documents to ensure that the privacy of our clients is upheld. She participates in the planning of company activities and events. She provides support to the tax and financial planning professionals.
Becky has been with ITFP since January 2015.