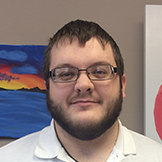 Matthew is a graduate of Council Rock High School South, Class of 2010. He is also a graduate of the University of Pittsburgh. He completed his Bachelor of Arts degree in 2014, majoring in Anthropology, with a minor in Classics.
At ITFP, Matthew is responsible for the maintenance of electronic storage of documentation and client records, organizing and maintaining paper copies of clients' tax and/or permanent files, and addresses computer related issues. Matthew is also responsible for the proper disposal of documents to ensure that the privacy of our clients is upheld.
Matthew has been working with ITFP since September 2016.